Overall Event – Information
The event is organised by Meelick-Eyrecourt Kayak Club in association with Canoeing Ireland, Waterways Ireland, Meelick Development Group and a number of great sponsors listed below. The event (as with the kayak club) is not-for-profit.
Following the huge success of the 2019 event (winning the Canoeing Ireland event of the year 2019), and cancellation in 2020, the 2021 event date has been set for Sunday October 3rd. The weir at Meelick has been completely upgraded, so all future events will have a top class facility for spectating and enjoying a day out at the same time. This year we have broadened the event to include numerous additional items to entertain spectators including heritage and biodiversity walking talks, photography exhibitions/competitions, fisheries exhibits (to allow you see the native fish species) and more. See our Facebook page for full details as they are confirmed! It is free to spectate, so come have a look (10am to 2pm is best for spectating entertainment)!

Location map is below. Parking will be directed by stewards on the day.
Kayaking Event – Information & Registration:
This is a fun-oriented watersport focused festival aimed at novice and intermediate kayakers (level 2 and level 3 paddlers). Registration will opened at 8:30am at Meelick Weir, and racing starts at 10am. Keep an eye on our Facebook page for updates for Meelick River Fest. A level 2 qualification, current Canoeing Ireland membership and being aged 14+ on the day will be prerequisites for taking part in the water-based races/workshops.

Here is an idea of what the registration will include:
– Entry to Time Trial Race
– Entry to Boatercross Race
– Mini Marathon race (for K boats, canoes, sea kayaks, etc. – note this is open to those that are not registered)
– Choice of numerous afternoon Skills Clinics/Workshops
– Excellent prizes!
– Food included with registration (light breakfast, hearty hot lunch and a second meal in the late afternoon)

Registration costs have been kept as low as possible – we are a non-profit event.
Workshops include (subject to change):
– Whitewater skills
– Slalom skills
– Rescue skills (incl. rescue olympics)
– Polo skills
– Canoeing skills
– SUP
– Freestyle
Registration: Step 1 – Your Details
Meelick River Fest 2021 is now booked out! Sorry, but feel free to come and spectate or take part in other activities.
Note: there may be a verification step required before it will submit.
Step 2 – Payment
Payment for the event can be made via secure payment with a credit/debit card (click "Pay Now" below). If you need to use bank transfer this can be arranged (Use your name as visible text). Bank details available by emailing meelickriverfest@gmail.com
PLEASE complete the above form before making payment.
The cost is €30pp to register for the kayaking event, including a t-shirt, a hearty lunch and another meal for the late afternoon.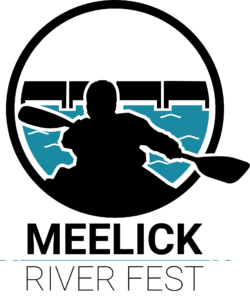 Supported by: